Hello! Have you read Geek Girl?
If answer = yes, display "Hurray!"
Else if answer = no, display "Read it now and nobody gets hurt." #emptythreats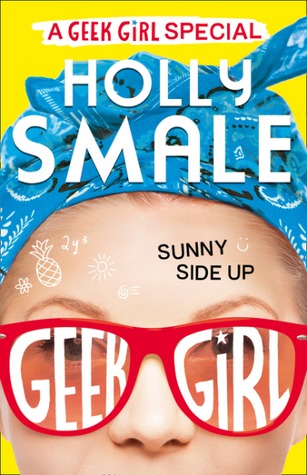 Here's a Goodreads synopsis:
Harriet Manners knows many facts.
And she knows everything there is to know about Paris… except what to do when you're the hottest new model at Fashion Week.
Can Harriet find her je ne sais quoi or will it be sacré bleu! on the runway?
I don't know what the last sentence means either but I can't be bothered to find out. Does anyone know?? I don't do French. I do German.
The Geek Girl series is a fun, light read and I stayed up reading this novella (4.5, apparently) from 9 in the night to 12:10 am. (On a school night, but does that matter in the grand scheme of things?)
I wouldn't call the series deep and moving, exactly, but it is definitely fun to read and it got me out of my horrible reading slump. I am in yet another one. 
In this special, Harriet, as always, is very clumsy – almost dying of holding in a pee because she is on the catwalk, and falling in the swimming pool while wearing an animal hat. I couldn't understand a word Wilbur/liam was saying, ('that is right as a slip-stitch on two bits of adjacent fabric'? Really?) which was perfectly normal and strangely satisfying. 
At the end, there is also a story from Nick's point of view, and reminded me once again of Harriet's incurable clumsiness.
Also, the type in the book is large and one in a few pages is filled with illustrations of pineapples. All in all, Sunny Side Up was written in a fun, easy to follow style with a cute storyline- I rate it 4/5 stars and highly recommendable as a summer read.
So if you haven't read the series yet, start with Geek Girl, from geek to chic… then yay! You will fall in love.